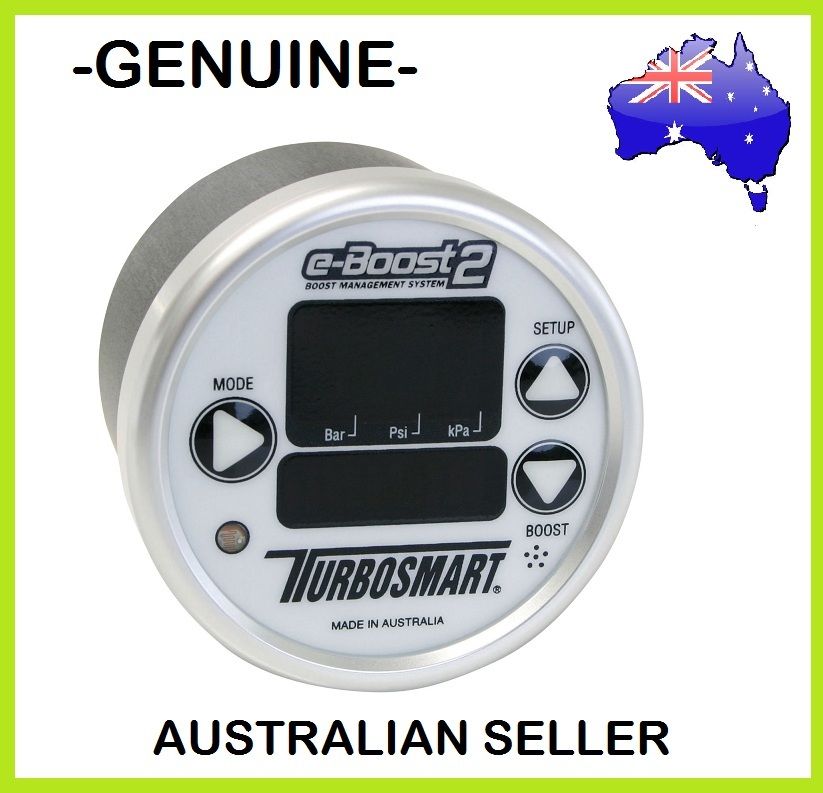 Genuine TURBOSMART 60mm e-Boost2 eBoost2 Electronic Boost Controller
Regular price $598.00 Sale
or make 4 interest-free payments of $149.50 AUD fortnightly with
More info
BRAND NEW - GENUINE - LATEST MODEL TURBOSMART E-BOOST 2 - 60mm 
Now standard with 60psi max boost operating pressure!
e-Boost2 is a second generation complete Boost Management System. With market-leading features and and state-of-the-art software, e-Boost2 is the one accessory all owners of turbocharged cars should have! Easy to use, yet sophisticated and technologically advanced, the e-Boost2 is equally at home in a street-going vehicle as it is in a top-level racecar.
e-Boost2 allows the user to control, monitor, map and compensate boost. But e-Boost2 is a lot more than just a boost controller – it can also control water spray, methanol or nitrous injection, manage shift/warning lights and read/monitor RPM. While e-Boost2 is fitted with a state-of-the art software, it has been designed to be easy and logical to use.
Boost Levels: up to 6 levels of boost.
Boost on Demand: provides instant overtaking power at your fingertips
Gear-based Mapping: set a different boost for each gear!
Adjustable Boost Levels: program boost against TIME or RPM.
Aux Output: fully programmable; controls water spray, methanol or nitrous injection.
RPM Compensation: eliminates boost drop-off at high RPM.
Peak Hold/Max Boost Recall: monitors boost and RPM.
Gate Pressure: eliminates wastegate creep.
Overboost Shutdown: provides added protection for your engine .
Display: programmable, can be configured to KPA, Bar or PSI.
Auto Dimming: with backlit buttons for hassle free navigation.
IMPORTANT:
100% Genuine Australian Turbosmart product - supplied locally and supported by Turbosmart Australia with warranty and technical assistance. Buy with the peace of mind knowing you have the real deal!
ABOUT US
Global Auto Co is an Australian owned and operated business run out of Melbourne, Victoria. With decades of industry experience, we take pride in offering great products at great prices.