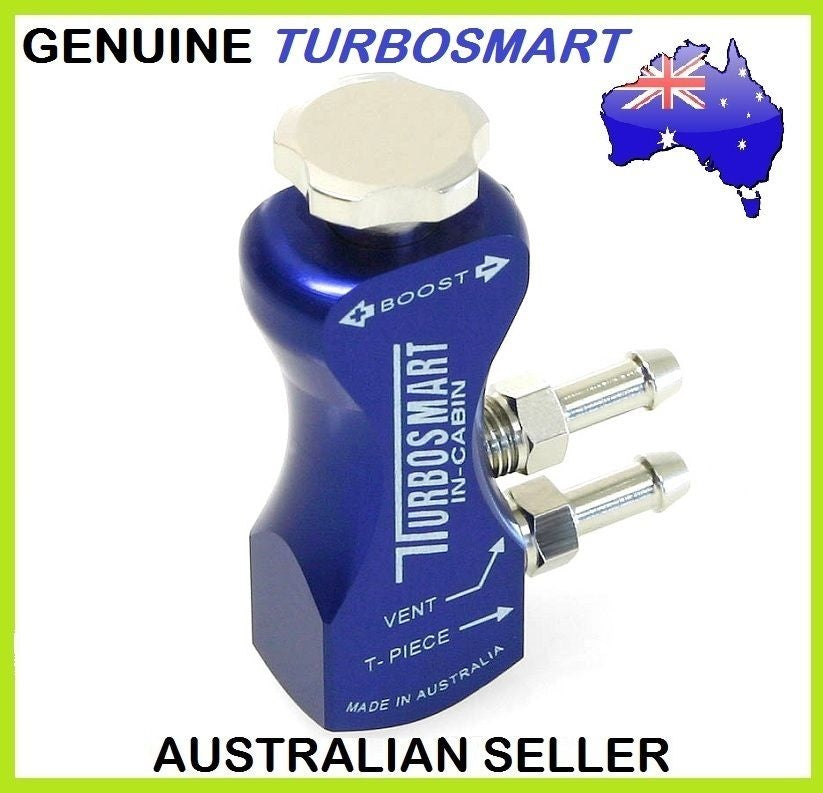 Genuine TURBOSMART IN-CABIN Manual Turbo Boost Controller - Blue - Control Valve
Regular price $98.00 Sale
or make 4 interest-free payments of $24.50 AUD fortnightly with
More info
DESCRIPTION:
Control the boost from the driver's seat. Ideal for the active enthusiast who wants boost adjustment on the run. Detent System makes adjusting a breeze. Gated System brings boost on faster.
PART NUMBER:
BLUE: TS-0106-1001
APPLICATION:
Most turbocharged petrol engines. 
SUPPLIED WITH:
Mounting bracket, hose and all fitting hardware.
SOME MORE INFO:
The Turbosmart Gated Boost Control Valve range is one of the best dollar for horsepower upgrades that you can make to your turbocharged petrol or diesel engine vehicle.
All Turbosmart Gated Boost Controllers feature our exclusive Gate feature which minimizes wastegate creep and can improve turbo
response by up to 800 rpm earlier in the rev range – this means that you can increase the performance and response from your engine without even raising the maximum boost level.
Stable increases in boost over wastegate spring pressure of 200%+ for internal wastegate and 100% for external wastegates are common practice using our manual boost controllers.
Manufactured from high-grade brass and billet aluminium and are renowned for their easy installation, robust design, stability and our detent adjustment system allows for accurate and simple tuning of boost pressure.
The Turbosmart Gated Boost Control Valve range is ideal for mildly modified turbocharged engines and perfect for increasing boost levels on factory turbo cars and turbocharged engines
IMPORTANT:
We sell only 100% Genuine Australian Turbosmart product - supplied locally and supported by Turbosmart Australia with warranty and technical assistance. Buy with the peace of mind knowing you have the real deal!
ABOUT US
Global Auto Co is an Australian owned and operated business run out of Melbourne, Victoria. With decades of industry experience, we take pride in offering great products at great prices.