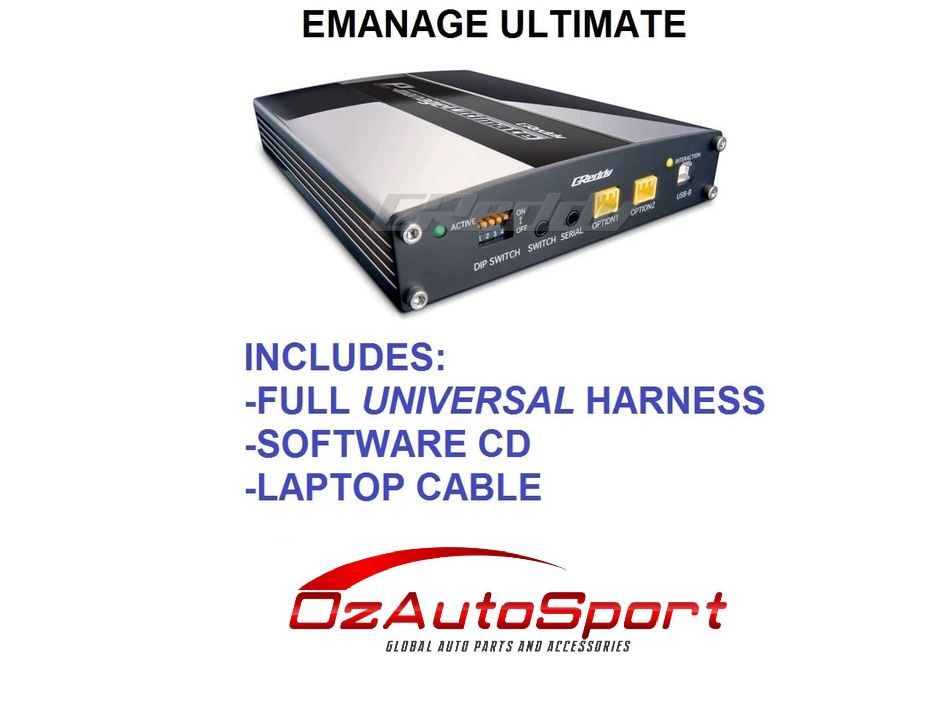 Greddy e Manage emanage Ultimate ECU for S13 S14 S15 SR20 POWER FC wire in harne
Regular price $672.00 Sale
or make 4 interest-free payments of $168.00 AUD fortnightly with
More info
Greddy E Manage ULTIMATE KIT to suit Nissan SR20DE(T) and other models
Included:
1 x Greddy E-Manage ULTIMATE main unit
1 x Greddy E-Manage ULTIMATE Tuning Software Installation Disc
1 x Universal -WIRE IN - harness, FUEL & IGNITION
(** Note - not plug in harness, will require wiring in to your loom)
1 x Laptop Cable
LOCAL WARRANTY AND TECHNICAL SUPPORT.
E-Manage Details:
Greddy E-Manage Ultimate Piggyback ECU Greddy Performance does it again - this time with their new and improved Greddy E-manage Ultimate! The Greddy e-Manage Ultimate does what other piggybacks can't do! Engineered to preserve the best features of the original E-Manage along with additional new features that you've been asking for. It's the next best thing to an expensive standalone ECU!
NEW FEATURES INCLUDE
* USB Port - improved communications & better real-time data and monitoring
* Toggle function - switch between maps

* Serial port - monitor and data logging
* Switch port - Data log & Ign. Cut activation
* Option 1 & 2 - Connectors for sensors
* Warning Setting
* A/T Shift Compensation
* Channel Change
* Rev limiter cut
* Acceleration injection Map
* Individual cylinder fuel & ignition adjustment maps
* Speed correction map
* Coolant temperature correction map
* Air intake temperature map
* A/F target value map
* Ignition adjustment map
* Acceleration ignition map
* Nissan Valve control map
* Analog output map
* Auxilary output map
* Idle stabilization map Additional Features
* RPM signal recognition
* Fouled plug feature
* Data logging
* Text file save feature
* Knock monitor (future feature)
* Ignition timing display (future feature)
- Note images for illustration purposes only. Plug in wiring harnesses may differ slightly according to your application