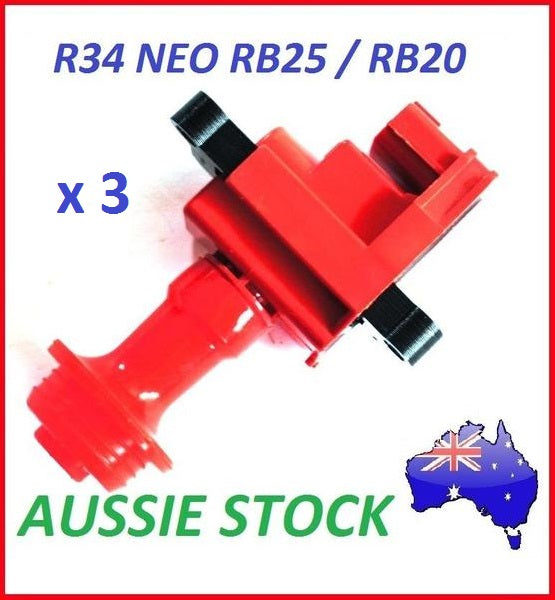 New Red Performance Ignition Coil for Nissan R34 Skyline GTT RB25DET Neo x3
Regular price $115.00 Sale
or make 4 interest-free payments of $28.75 AUD fortnightly with
More info
New Performance Ignition Coil - Compatible with Original Nissan, SPLITFIRE, Super Spark and many other drop in replacement coils

** Price for 3 coils **


TO SUIT NISSAN MODELS -
SKYLINE R34 GT ER34/ENR34 - RB25DE NEO (1998 >)
SKYLINE R34 GTT ER34 - RB25DET NEO (1998 >)
STAGEA WHC34 - RB20DE NEO (1997-1998)
STAGEA WGC34 (2WD) - RB25DE NEO (1997 >)
STAGEA WGC34 (2WD) - RB25DET NEO (1998 >)
STAGEA WGNC34 (4WD) - RB25DE NEO (1997 >)
STAGEA WGNC34 (4WD) - RB25DET NEO (1998 >)
CEDRIC/GROLIA ENY34 - RB25DET NEO (1999 >)
LAUREL HC35 - RB20DE NEO (1997-1998)
LAUREL GC35/GNC35 - RB25DE NEO (1997 >)
LAUREL GC35/GCC35 - RB25DET NEO (1997 >)
Coil has 2 mounting holes - If your coil has 3 or 4 mounting holes please refer our other listings or contact us if unsure.
Replaces / OEM Number
MCP-1440
DIS-008
22448-AA100

12 MONTH WARRANTY.

ABOUT US
Global Auto Co is an Australian owned and operated business run out of Melbourne, Victoria. With decades of industry experience, we take pride in offering great products at great prices.