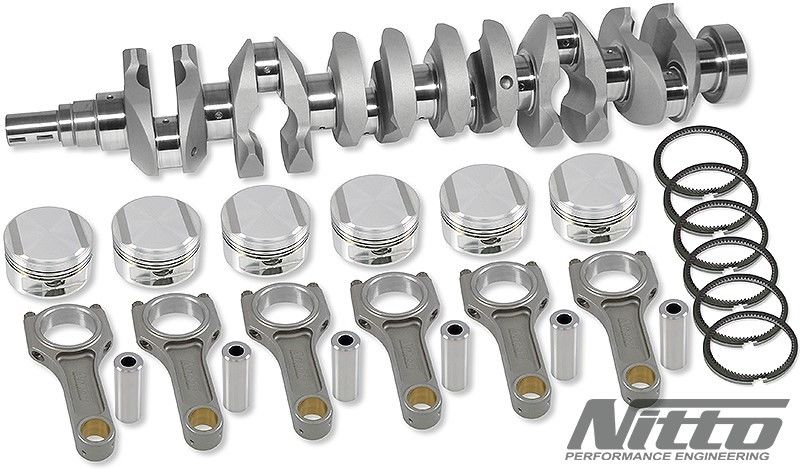 NITTO 2.8L STROKER KIT 87MM PISTON for NISSAN SKYLINE RB26 DETT R32 R33 R34 GTR
Regular price $9,650.00 Sale
DESCRIPTION

2.8L Kit
NITTO's RB26DETT 2.8Ltr Stroker Kit consist of an increased stroke crankshaft made from solid 4340 billet steel, 4340 one piece forged billet steel I-beam connecting rods and a unique JE/Nitto forged piston set along with upgraded thick wall gudgeon pins and premium ring sets. Engine capacity is increased from 2.6Ltr to 2.8Ltr which provides more power and torque whilst still retaining the RB26's excellent high revving characteristics. Unlike many other manufacturers of 2.8Ltr kits, Nitto has retained the factory connecting rod length rather than shortening it which is made possible by designing a special piston that allows the connecting rod little end to be pushed up into the oil control ring groove on the piston. The piston runs a special rail support ring to reliably enable this design. Benefits of this system over the shorter connecting rod 2.8Ltr kits are a more desirable rod ratio suited to the characteristic of the engine, higher RPM ceiling, less piston side loading and a stronger ability to deliver HP at higher RPM levels.
All components have been meticulously machined to exacting tolerances and the highest standards. All Nitto stroker kits are far superior to the cheaper manufactured kits currently available that consist of cast forged crankshafts, H-beam connecting rods and high silicone content pistons.
The 2.8Ltr Kit rotational capacity is lifted to 11,000 RPM and power handling is rated to 1600 HP. The The changed harmonics due to the crankshaft material and design results in a much "freer revving" more balanced engine.
Continuous testing and development on and off the track has allowed us to design a kit with extreme strength whilst retaining a sensible reciprocating mass weight.
COMPONENTS

CRANKSHAFT

4340 Grade Billet Steel

Fully Counter Weighted

Knife Edged

Nitrided Finish

Fully Balanced

CONNECTING RODS

4340 Grade Billet Steel

I-Beam Construction

Quality ARP 2000 Series Bolts

Optional ARP Custom Age 625 Plus Series Bolts

PISTONS

JE / NITTO Produced Quality & Unique Design

Forged T6 2816 Aluminium Alloy

Low Silicone Content

Contact Reduction Grooves

Accumulator Groove

Thick Wall 93 Series 9310 Nickel / Carbon Steel Alloy Pins

JE Premium Ring Set
OTHER DETAILS

ENGINE MODEL           PART NUMBER             ROD TYPE       STROKE           BORE    
NISSAN RB26 2.8L       NIT-STK-RB26I2887             I-BEAM             77.7MM            87.0MM
ABOUT US
Global Auto Co is an Australian owned and operated business operated out of Melbourne, Victoria. With decades of industry experience, we take pride in offering great products at great prices.