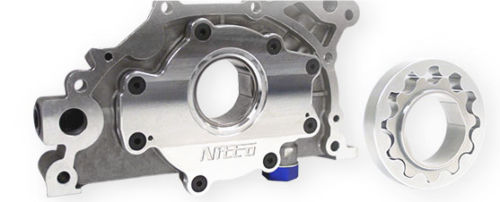 Nitto Hi Flow Oil Pump for NISSAN RB26 GTR RB25 RB30 & Tomei Jun RB26DETT
Regular price $1,122.00 Sale
The NITTO RB series high volume oil pump is a high quality performance aftermarket oil pump that will suit Nissan RB20, RB25, RB26 and RB30 engines. Oil flow and pressure is dramatically increased over that of the factory oil pump which is critical in modified engines for reliability of the lubrication system. Failure of this system is the "Achilles heel" of the Nissan RB series engine even on mildly tuned examples and accounts for a high percentage of "RB" engine failures.

Factory based oil pumps are highly prone to oil pump gear failure in modified engines due mostly to the quality of the cheaper mass produced material used in the manufacturing of the OEM style gears. Oil pump gear failure will result with inevitable engine damage. For this reason EN Series billet steel material is utilised for the manufacture of NITTO RB series high volume oil pump gears which are far superior in strength and durability to that of both factory and its competitor's oil pump gears.

NITTO utilizes their precision CNC machined cast alloy outer housing and along with their already proven oil pump design NITTO has now released a new billet alloy backing plate allowing further stability to oil pressure and flow at high rpm levels by minimizing any possible flexing of the housing.

NITTO RB series oil pumps are supplied pre-inspected, blue printed, assembled and cleaned to enable direct installation straight onto your engine and assure total confidence.
 

FLOW RATES (LITRES / MIN)

ENGINE RPM

FACTORY PUMP

NITTO HIGH VOLUME PUMP

750

4.6

6.5

2200

15.3

20.2

7000

46.5

64.8

PRESSURE RELIEF VALUE (RELEASE PRESSURE)

Dual Springs

120 psi *

Outer Spring Only

75 psi *

* Denotes Approximate Maximum Oil Pressure

NITTO OIL PUMP GEAR VS FACTORY GEAR DIMENSIONS

DIMENSION

FACTORY

NITTO

DIFFERENCE

Outer Gear Diameter

76.85MM

81.50MM

6% LARGER

Outer Gear Width

11.00MM

14.35MM

23% LARGER

Tooth To Outer Wall Width

2.55MM

4.85MM

47% LARGER
To suit:
RB20
RB25
RB26
RB30
Need a crank collar for your RB? We have these too!CLICK HERE
ABOUT US
Global Auto Co is an Australian owned and operated business run out of Melbourne, Victoria. With decades of industry experience, we take pride in offering great products at great prices.