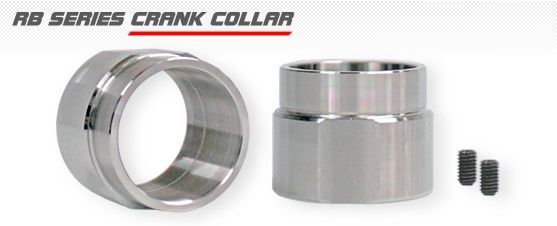 NITTO RB Crankshaft OIL PUMP Collar for NISSAN SKYLINE RB25DET ER34 GTT NEO
Regular price $108.00 Sale
or make 4 interest-free payments of $27.00 AUD fortnightly with
More info
NITTO's RB series crankshaft collar was specifically developed to be used on RB series crankshafts that have the factory narrow oil pump drive on the crankshaft snout.

Most earlier RB series engines have the crankshafts with the narrow oil pump drive. This becomes a major problem when upgrading your oil pump to the commonly used wider gear type pumps as the contact area from the drive to the oil pump gear was minimal. This caused either the drive to wear out prematurely or excessive force to be applied onto a small area of the oil pump gear and cause eventual oil pump failure followed by major engine failure.

NITTO offers an affordable solution to this problem by designing a high tensile 709 series steel RB series crank collar with a full width contact area compatible with any replacement oil pump. This ensures the correct contact area needed to safely run you engine at high rpm and minimizing the possibility of premature oil pump failure due to a poor contact area.
Full Width Contact Area Ensures Increase Reliability
Durable 709 Series High Tensile Material
Works on All OEM Type RB Series Crankshafts
Compatible with All Replacement Oil Pumps
ABOUT US
Global Auto Co is an Australian owned and operated business run out of Melbourne, Victoria. With decades of industry experience, we take pride in offering great products at great prices.