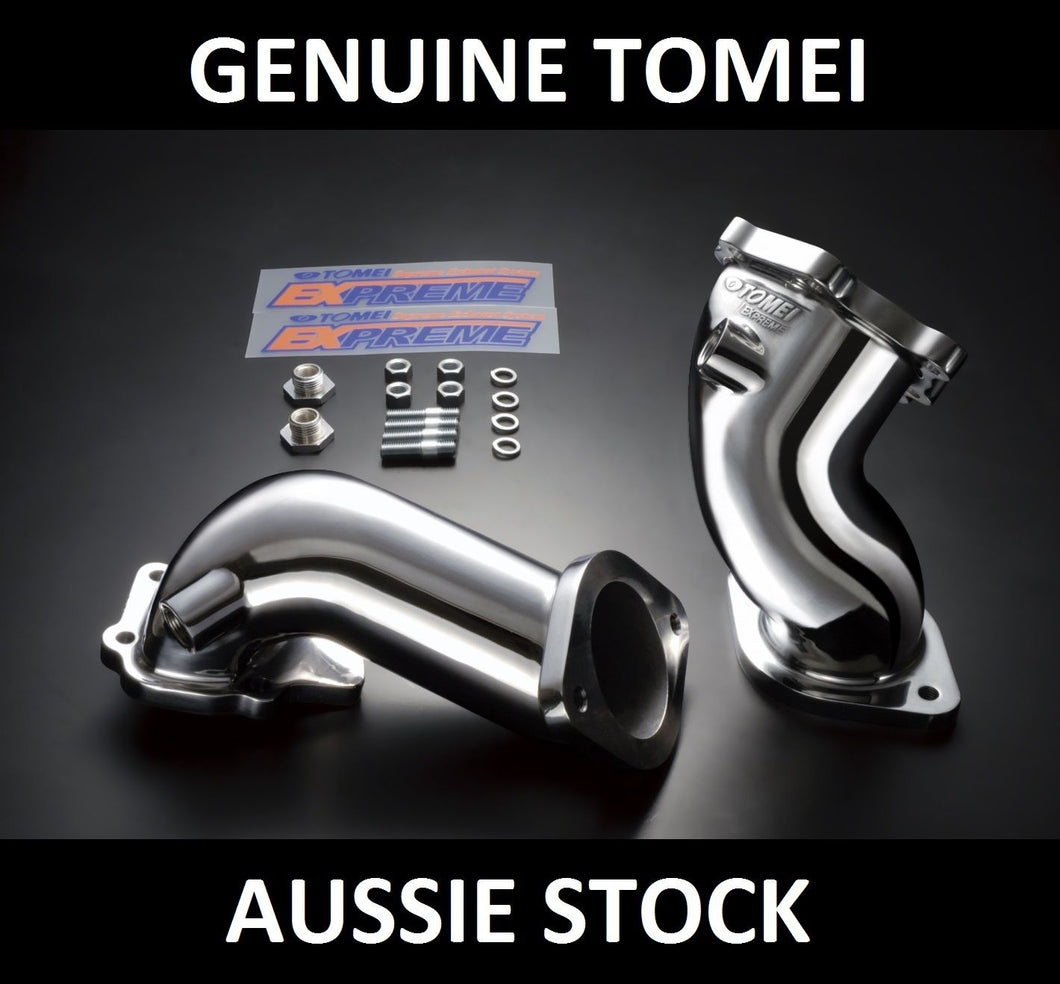 Tomei Dump Pipe for Nissan Skyline RB26 R32 R33 R34 GTR RB26DETT Turbine Outlet
Regular price $899.99 Sale
TOMEI DUMP PIPE  / TURBINE OUTLET KIT TO SUIT RB26DETT TWIN TURBOS
MODEL WILL SUIT BNR32 / BCNR33 - CAN ALSO FIT BNR34** 
Some information from our Tomei friends:

Maximum Strength & Efficiency With Lost Wax!!
The stock turbine outlet pipes internal diameters are small and restrictive which raises the secondary exhaust pressure. When the secondary exhaust pressure rises it will cause power loss and lack of response with unstable boost pressure. The TOMEI outlet pipes have been specifically designed with the larger internal diameter to improve exhaust gas flow efficiency with the reduction in the secondary exhaust gas pressure. This design has been proven effective on the engine bench dyno R&D as well as in the real world environment as proven on the race tracks with our ARMS turbines.
 

 FEATURES

・

The light weight SUS304 material is used for strength & anti rust properties.

・

The lost wax process helps ensure that exhaust leaks are prevented.

・

Manufactured via lost wax process to eliminate the use of welds.

・

With the clean look of no welds these part alls then all will look good.

 

KIT CONTENTS

OUTLET PIPE

BOLTS / FITTING GEAR

STICKER

INSTALLATION MANUAL
 
 
 

Lost Wax method gives a smooth inner finish.

 

O2 Sensor Boss

 

The Lost Wax design is free from welds.

 
 
Large Diameter φ68mm
(Stock : BNR32/BCNR33 φ58mm, BNR34 φ55mm)

 

12mm Flange Thickness

 
 
 
 

---

 

PREVIOUS

CURRENT

 

---

 

MATERIAL

PIPE:SUS304 / FLANGE:STEEL

FULL SUS304

 

---

 

WELDS

2 FLANGE SECTIONS
& SENSOR BOSS FITMENTS

COMPLETE ONE PEICE

 

---

 

 

 
** BNR34 will need addition of boss for EGT probe
About us:
Global Auto Co is an Australian owned and operated business run out of Melbourne, Victoria. With decades of industry experience, we take pride in offering great products at great prices.