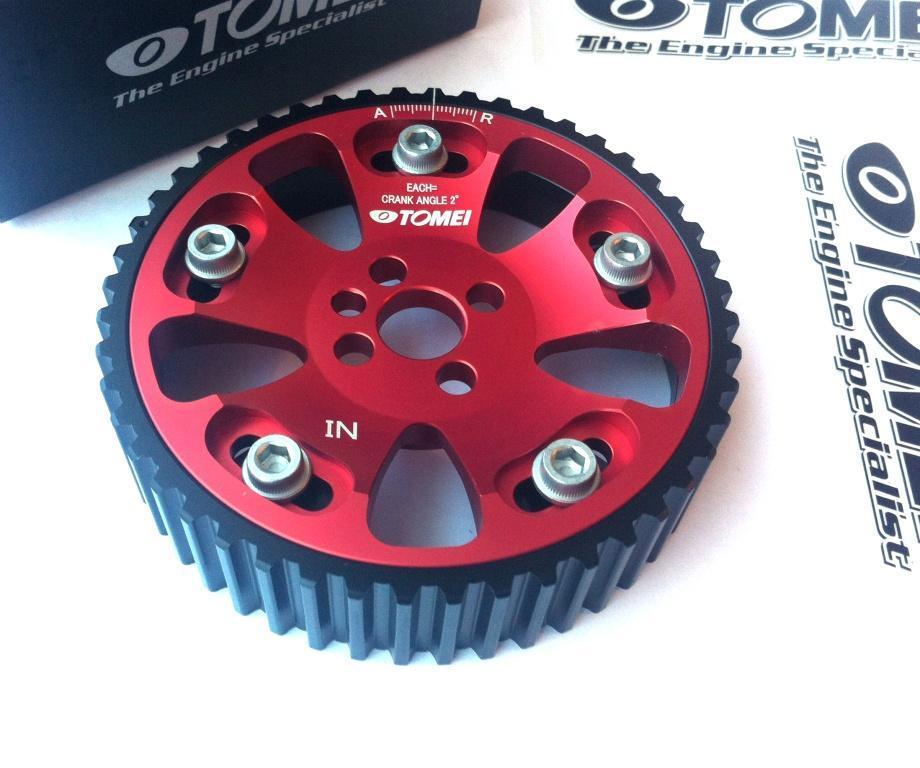 TOMEI INLET CAM GEAR PULLEY for NISSAN SKYLINE R32 R33 R34 GTR RB20DET RB26DETT
Regular price $229.99 Sale
GENUINE Tomei adjustable inlet cam pulley to suit NISSAN RB TWIN CAM ENGINES.
LATEST MODEL  (red centre with black outer gear)
Included: Inlet pulley, 2 x Tomei stickers.
Super lightweight 100% Duralumin
Duralumin is alloy of aluminium (over 90%) with copper (about 4%), magnesium (0.5%-1%),
and manganese (less than 1%). Because of its lightness and other desirable physical
properties, duralumin is widely used in the aircraft industry. material of both pulley
part of an outer, and an inner plate portion to realize super-lightweight body.


Extreme durability
By coating with hard almite on the surface, durability of the pulley have raised dramatically.
It can easily be used for the drag racing cars that exceed 1000 horse power and 10000RPM.


Extreme high precision
Tomei have succeeded in giving extreme high precision to the pulleys shape & construction
Gives precise & durable transfer of power from the crankshaft via the timing belt.

To suit
Nissan RB20DE(T)
Nissan RB25DE(T) (with aftermarket inlet cam / NVCS removed)
Nissan RB26DETT
ABOUT US
Global Auto Co is an Australian owned and operated business run out of Melbourne. With decades of industry experience, we take pride in offering great products at great prices.